Square Metre for Butterflies
A network of green roofs to support Edinburgh's urban pollinators
The Royal Botanic Garden Edinburgh (RBGE) and Butterfly Conservation Scotland (BCS) are working with a number of companies in Central Edinburgh to create a square metre for butterflies on roof gardens and green roofs. We have supplied and planted out three food plants for three species of butterfly – most notably the Northern Brown Argus – Edinburgh's special butterfly.
For years it existed on Arthur's Seat with Scottish butterfly watchers in the 1700's assuming it was just a slightly different version of the Brown Argus which it closely resembles. But in 1793, closer inspection revealed that it was indeed a completely new species. After its discovery it became a highly prized addition to the collections of butterfly enthusiasts and over-zealous collecting plus land use changes at Holyrood including the building of a road through the last remaining population strongholds of this species. This meant that the iconic population of Northern Brown Argus butterflies had disappeared by 1869; less than 100 years after it was first discovered.
In 2005 the Northern Brown Argus was re-discovered at Holyrood and the population has continued to increase annually. Now RBGE in partnership with BCS as part of Edinburgh Living Landscape are welcoming this beautiful butterfly back by providing all its requirements – space, food for adults and caterpillars and shelter on roofs around the centre of the city. The other two species of butterfly are the common blue whose caterpillars feed on birdsfoot trefoil Lotus corniculatus and the small copper feeding on sheep sorrel Rumex acetosella.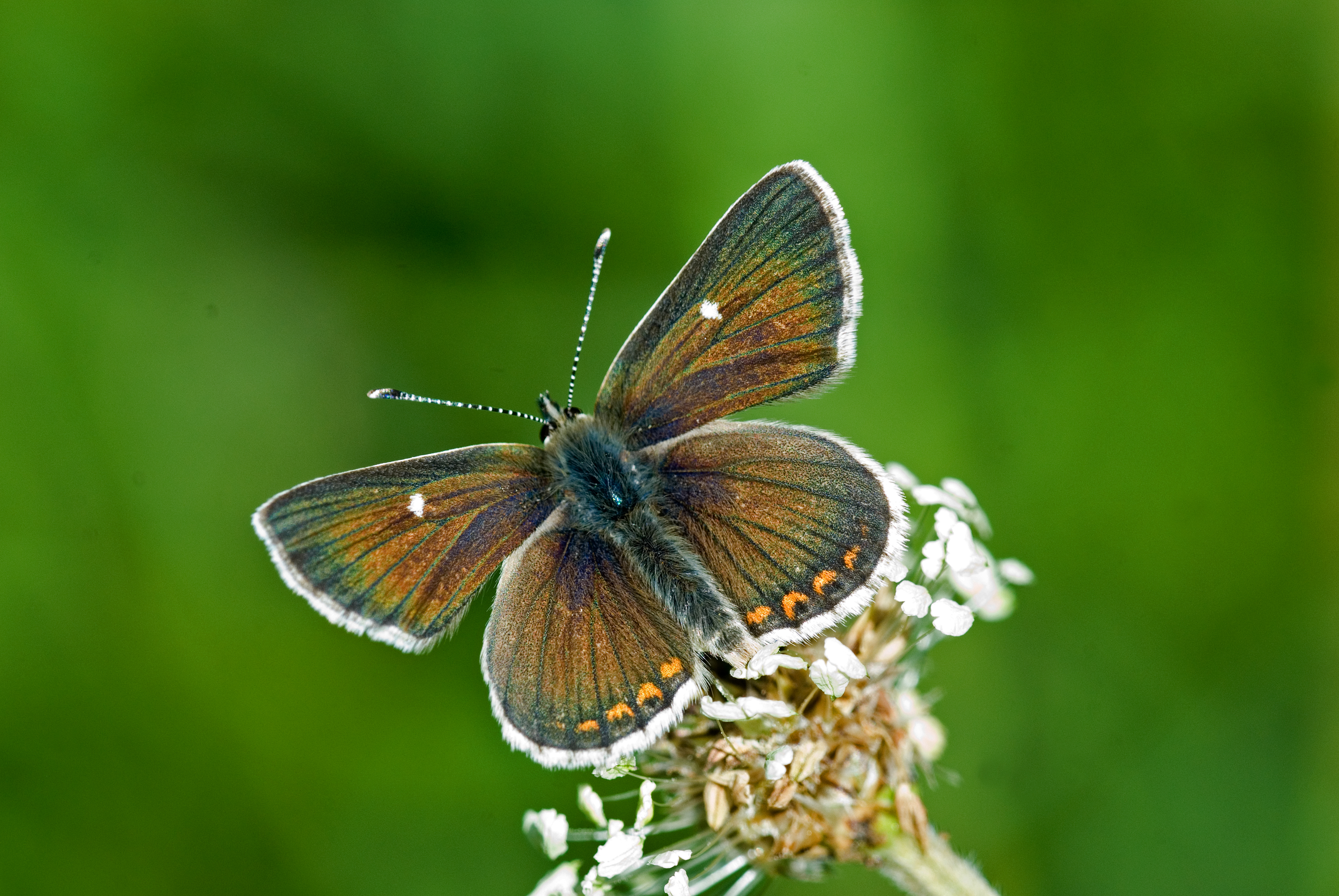 Improving green roofs
Square Metre for Butterfly sites have been established where the caterpillar food plants have been established. These include the Scottish Parliament, Scottish Government at Victoria Quay, a number of private offices, churches and a respite care centre. Planting out has involved being roped up on the Scottish Parliament roof, working with staff, volunteers and landscape contractors at offices and planting out with primary school pupils at a major construction site in central Edinburgh.  We are also runing follow up sessions on butterfly identification with staff so that they can monitor these areas at lunchtime and send in their records.
The aim of the project is to demonstrate the importance of these high level resources for pollinators and other wildlife, to encourage organisations and individuals to make more of their roof space and to make the case for green roofs on new developments.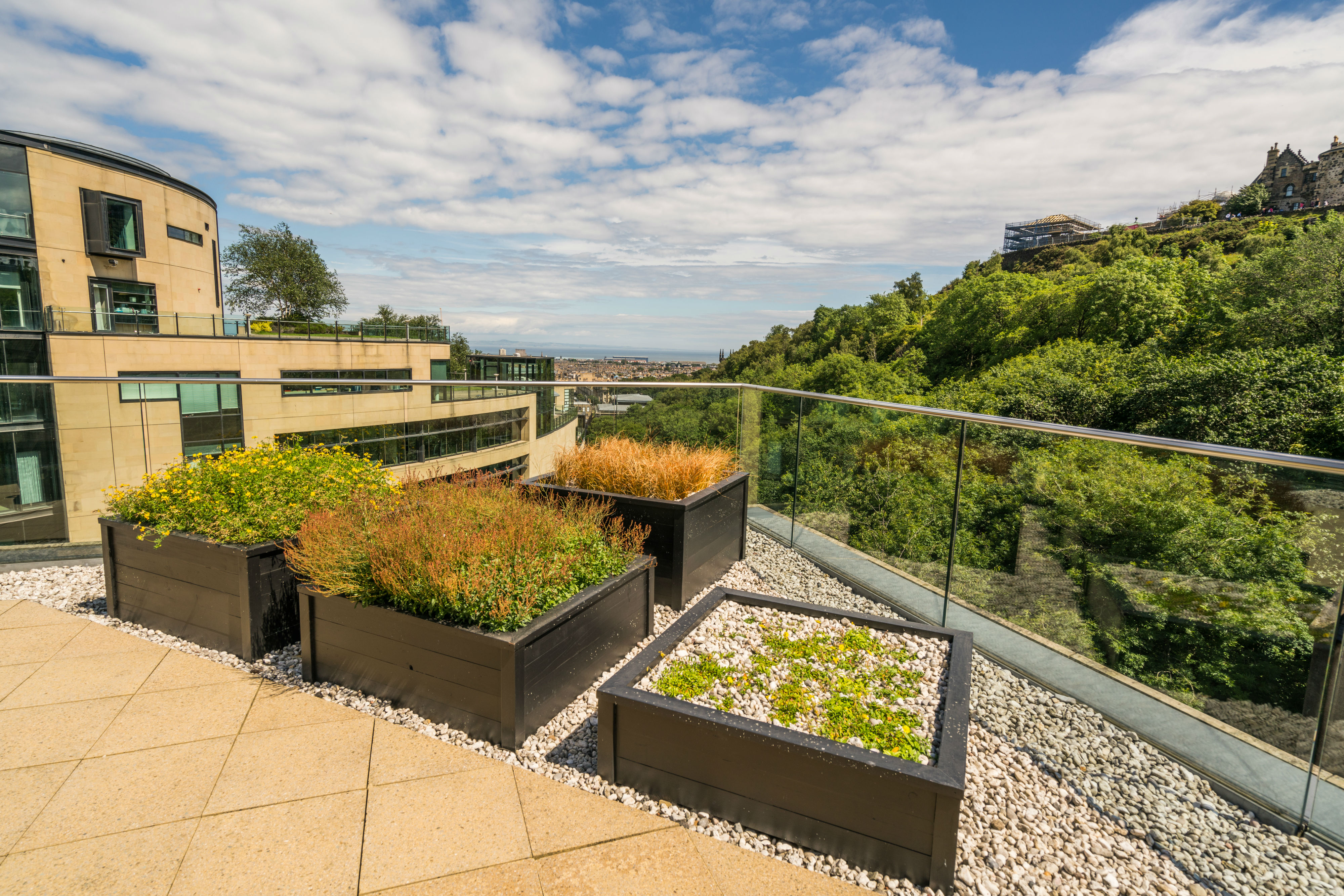 Project Progress to end of 2017
This project has now delivered 9 new sites – some on roofs and others small plots at ground level. Organisations and businesses that have got involved include the City of Edinburgh Council, Royal Mile Primary School and The Glenmorangie Company Ltd. The latter included working with the Prison Service to construct the bespoke planters. The sites are being monitored in 2018 to assess what species of pollinators are using them. Initially led by the Royal Botanic Garden Edinburgh, the project is now led by Butterfly Conservation Scotland since the end of 2017. We are working with developing new site ideas – if you have a location to propose, please get in touch.