Improving the Mound for nature
, by edinburghll
Exciting work is taking place to improve the Mound for nature. Cheryl Jones, Sustainability Manager, Future Workplace, Lloyds Banking Group explains how the company is improving the greenspace around its iconic head office in Edinburgh's city centre for nature, and how this work fits in with the Edinburgh Nature Network. 
How important has championing wildlife and biodiversity become across your sites?
It's become hugely important for us, both from a wildlife and a people point of view. If there's one thing that has really shone through over the last two and a half years, it's the vital importance of reconnecting with the natural world, and in turn ensuring we make space for nature so that it can thrive. All life is connected, and any disruption in one part of the ecosystem, will have ripple effects in another. Therefore, we need immediate, transformational action to stem biodiversity loss as a global priority.
To help with this, we're in the process of transforming our approach to landscaping across our estate, mitigating the impact of our own buildings and improving the health of the green spaces we occupy. While most of our outdoor spaces are relatively small, we want to use our small parcels of land to help contribute toward the regeneration of nature and restoring the connectivity between our sites and surrounding ecosystems. We've invested in our operational biodiversity programme because it feels like the right thing to do.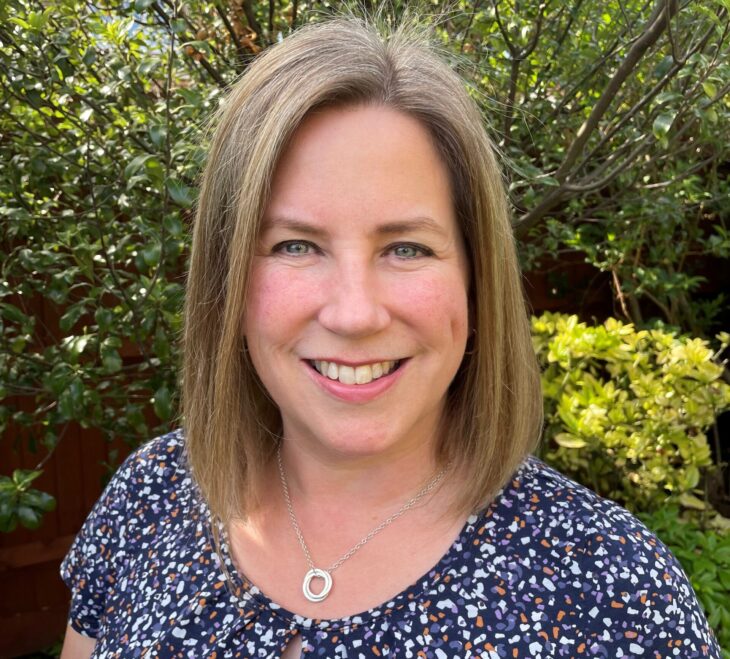 Our focus has been on simple actions, such as reduced mowing and pruning, planting wildflower meadows and beds, planting native trees and berry-producing hedges, and creating natural log pile bug hotels and wildlife shelters. We've also mown pathways and provided outdoor seating to enable colleagues to share these spaces with nature. It's crucial to maintain and enhance connectivity in nature, and by creating these stepping stone habitats, wildlife corridors, and generally improving biodiversity in our green spaces, we can work toward generating nature-positive outcomes for decades to come.
Another really exciting aspect of our programme is the positive ripple effect that we're hoping it generates. Anyone who interacts with our new spaces, whether it be colleagues at our operational sites, or visitors to our public spaces such as the Mound, will be able to take a few moments just to breathe and enjoy the natural surroundings. This is especially important in more urban areas where green space is limited. We hope our new wild gardens will resonate with people, and that they take a few nature-positive ideas away, and apply them at their own homes and outdoor spaces.
What have you learned through your involvement in the Edinburgh Nature Network?
We learned how crucially important connectivity is to wildlife, particularly in urban areas. The Mound, our head office in Edinburgh's city centre, occupies a very important location for creating stepping stone habitats enabling species to travel around the city. This includes pollinators and rare species of butterflies, as well as more common species such as bats, foxes and badgers.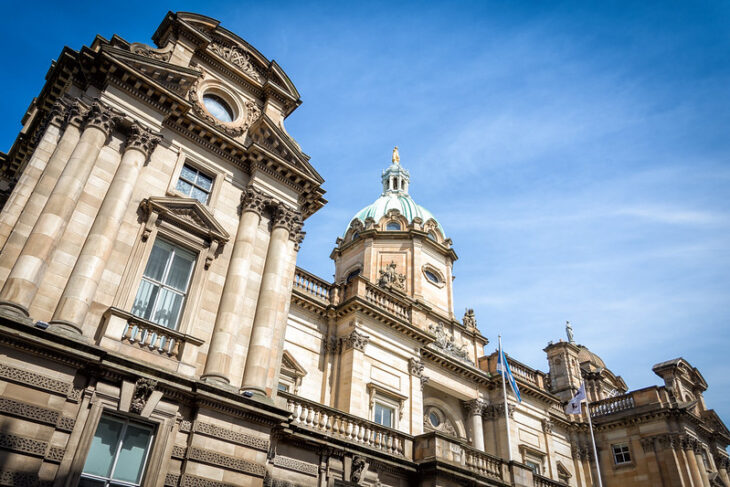 For example, in Edinburgh, the northern brown argus is only found in Holyrood Park; however there is perfect habitat at the nearby Calton Hill. Unfortunately, this butterfly cannot reach Calton Hill as the distance is too far with no suitable habitat to bridge the gap. As the Mound is at the centre of several larger sites designated for natural heritage, such as Calton Hill, Holyrood Park and Princes Street Gardens, it is in a prime location to put the Nature Network into action and create stepping stone habitats to help the northern brown argus reach Calton Hill.
How has that learning – and the recommendations given – translated into action on the ground at your main Edinburgh office on The Mound?
The Scottish Wildlife Trust helped us to develop a site-specific habitat creation and management plan to enhance biodiversity at the Mound. For our west terrace butterfly garden, they designed a meadow with a mix of plants to create a habitat and provide a food resource for the northern brown argus, and other locally rare invertebrates such as the stonecrop fanner, a nationally scarce moth. They gave us advice on ground-level lighting, which we actively manage to avoid interfering with moths and butterflies feeding in the garden over spring and summer.
Butterfly Conservation Scotland and Historic Environment Scotland also provided advice on the optimal mix of native plants for the site, including selecting mosses and sedges that thrive in wet conditions to help with an area of the garden prone to flooding, shade tolerant plants that attract pollinators and bats for planters in areas that only get brief periods of sun throughout the day, and native woodland plug plants for our wooded slope to the east of the building.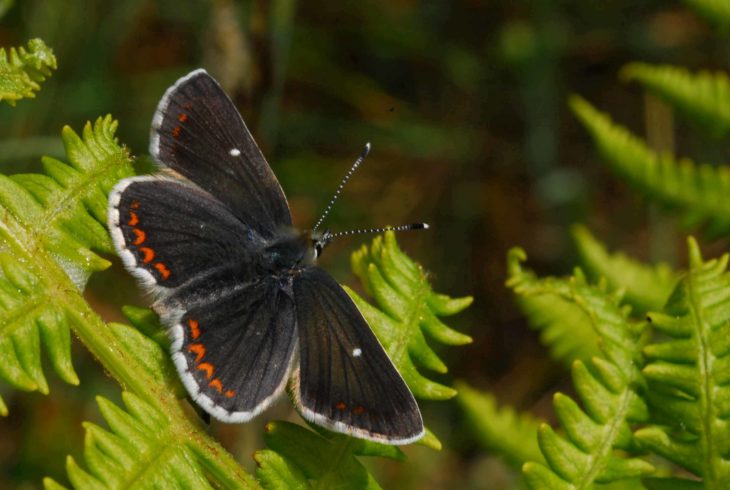 Our experience working with the Scottish Wildlife Trust and the Edinburgh Nature Network has been a great collaborative effort right from the start. As one example, Historic Environment Scotland provides ranger services at Holyrood, and when they heard about our biodiversity project at the Mound, they offered to collect seeds from specific rare plant species growing at the site that are known to attract the northern brown argus butterfly.
Our Mitie Landscapes team individually sand-papered these precious seeds to promote germination, and planted them in small pots where they spent the winter in a local greenhouse. The teams then planted the resulting plants, including maiden pink and sticky catchfly in the butterfly garden in May this year. As it develops, this area should provide a key stepping stone habitat for this declining species of butterfly, enabling them to stop, rest and re-fuel, before they continue on to their next habitat at Calton Hill and into the wider urban landscape.
We hope that the Mound will be the first of many such stepping stone habitats throughout the city, and that residents in Edinburgh can also play their part to help us connect northern brown argus habitats in their gardens or planters.
I think this project really brings to life how corporations like Bank of Scotland and Lloyds Banking Group, local authorities, and environmental NGOs can work together toward a positive outcome for nature. We hope that the Mound will be the first of many such stepping stone habitats throughout the city, and that residents in Edinburgh can also play their part to help us connect northern brown argus habitats in their gardens or planters. I would be thrilled if other businesses took inspiration from our work with Scottish Wildlife Trust and the Edinburgh Nature Network, and considered what they could do with their own small parcels of land or outdoor spaces to create joined up habitats across our cities and towns.
My key takeaway is that everyone can play a small  part, whether it's in a small corner of the garden, or even in window boxes or planters. There are so many things we can do collectively to create connectivity and positive change within the natural systems that bind us together. We need sustained collective action throughout society to make this happen.
To what extent is sustainability now a key consideration in the decisions made by large businesses?
Sustainability has been an important part of our strategy at Lloyds Banking Group for some time now. Many other organisations have also joined the conversation in recent years, so it has definitely leapt up the corporate agenda. It seems much more mainstream and part of everyday conversation, with many more large corporates leaning in to sustainability, embedding it within decision-making, and taking tangible action to address the twin crises of climate change and biodiversity loss. Given the urgent actions required on both, and our societal imperative to slow global warming and better protect our planet, this is hugely encouraging.
Business has a powerful role to play, particularly in terms of raising awareness of sustainability among customers and supporting people to make more sustainable choices. Additionally, they can have a huge influence on their supply chains, and because they operate in a policy environment, there's an opportunity to work with governments to create positive change. Ultimately, businesses have an imperative to safeguard their futures by reducing the potential impacts of climate change and biodiversity loss within their own operations. It can't be business alone though. Government, the markets and the general public need to come together to make a real impact.
Where is Lloyds Banking Group on its own sustainability journey?
The finance sector has a really important role to play in supporting the UK's transition to net zero, which is why we're working with our customers, Government and the market to help reduce the emissions we finance by more than 50% by 2030 and be net zero carbon emissions by 2050 or sooner.
Additionally, we've set ambitious operational climate targets to achieve net zero carbon operations by 2030, including reducing our direct carbon emissions by at least 75% compared to 2018/19 levels. We'll also halve our total energy consumption by 2030, reduce our water consumption by at least 40% by 2030, reduce operational waste by 80% by 2025, and maintain business travel and commuting emissions below 50% of pre-Covid levels every year from now on.
We recognise the important role that financial services in particular can play in helping to preserve natural ecosystems, minimise nature-related risks, and channel capital towards protection and restoration of natural capital stocks. We have external sector statements in place to guard against certain activities that are known to accelerate degradation of the environment.
We only have one planet, and we must all face in to the profound changes needed in business and in society to ensure it stays healthy and liveable for generations to come.
In 2021, we updated our external sector statements to cover palm oil and soya, which outline our expectations for sustainable production and zero deforestation achieved by 2030 at the latest. Collaboration between the financial sector, policymakers, NGOs and corporations will be key to addressing the biodiversity crisis. We have joined a number of initiatives to this end, including the Taskforce for Nature-related Financial Disclosures Forum, and are supporters of the UK Government's Get Nature Positive campaign. And through our existing partnership with the Woodland Trust, we are contributing £1m to plant 10 million trees across the UK by 2030, supporting both nature and the removal of carbon dioxide from the atmosphere, and we've just passed the two million tree mark!
We're definitely on a journey. There's still an enormous amount of work to do and, of course, many complexities to overcome in all of these areas. No one has all the answers. But, we only have one planet, and we must all face in to the profound changes needed in business and in society to ensure it stays healthy and liveable for generations to come.
Where does nature fit within your own vision for the workplace of the future?
The idea of 'workplace' has changed for so many of us, particularly within office environments. With more people working from home or adopting hybrid ways of working, the focus of the workplace has shifted, and office time is planned around specific purposes that work better face-to-face. As a result, expectations of the office environment have changed, and many businesses like us have responded. In creating outdoor spaces that support wildlife and are more nature-positive, they become more interesting and inspiring places to be. I personally do some of my best thinking while outside. We wanted to provide wilder, more engaging outdoor spaces for colleagues, whether it be for meetings or just a quiet moment to socialise or have a break. In that sense, these wilder outdoor spaces can become a valuable extension of our indoor space.
There's something magical and endlessly fascinating about the natural world, and there's no better time than today to make changes that will have a positive impact on nature's recovery. By collaborating and working together, we can all create a more beautiful and resilient natural world for everyone to enjoy.
An edited version of this interview was published in Scottish Wildlife, the Scottish Wildlife Trust's magazine, in July 2022.
---
edinburghll